Fast-Paced Storm Brought Winter Mix to New England
Written by Gavin White
Last updated 11/13/2023, 3:12:57 PM
---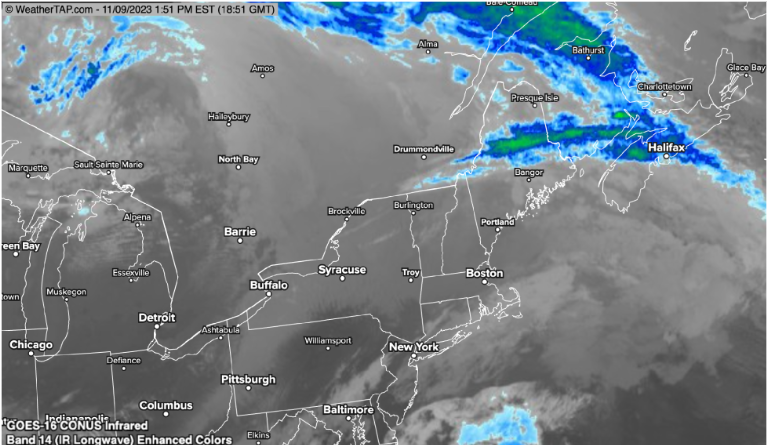 Residents in the Northeast woke up on Thursday morning to the region's first glimpse of winter weather for the season as a fast-moving storm system brought accumulating snow, sleet, and freezing rain to the area. Wintry mix precipitation was reported from northern New York to Vermont and New Hampshire to western parts of Maine. Snow accumulated 1-4 inches during this storm period, with locally higher amounts at higher altitudes.
The quick-paced storm system developed along a progressing cold front, providing moisture and cold temperatures resulting in winter weather. While the winter mix may have been an unwelcomed hindrance to the morning commute, the larger concern was ice buildup. Due to above-freezing air temperatures and sub-freezing ground temperatures, precipitation fell as rain but was prone to quickly freezing on contact with hard surfaces, such as roads, creating a thin sheet of ice. This is what defined freezing rain.
While most areas in New England saw less than 0.10 inches of ice buildup, per the National Weather Service, any presence of ice was a reason to remain cautious. While some roads had slick spots, bridges and overpasses were substantially more susceptible to icing over. Ice on roadways created dangerous driving conditions that could and did affect any vehicle type. As a result, extra caution had to be taken by drivers and commuters in the affected areas through the remainder of Thursday.
For the afternoon and evening hours, the attention shifted primarily to Maine as the storm continued its eastward trek. Light snow and a mix of freezing rain and sleet were expected in the afternoon before turning over to rain when temperatures warmed into the mid-30s.
The good news came following the passage of this storm system; the region remained dry through the remainder of the holiday weekend. On the contrary, temperatures were colder and below average.