We have reached the peak of the 2022 Atlantic Hurricane Season, so now what?
Written by Mary Triplett, Meteorologist
Last updated 9/10/2022, 8:23:28 PM
---
September 10th marks the climatological peak of the Atlantic hurricane season. This is the time of year that is most optimal for the formation of tropical cyclones. Sea-surface temperatures have reached their warmest levels of the year, upper-level winds tend to relax across the Atlantic Ocean, Saharan dust is less widespread and weak disturbances frequently roll off the western coast of Africa.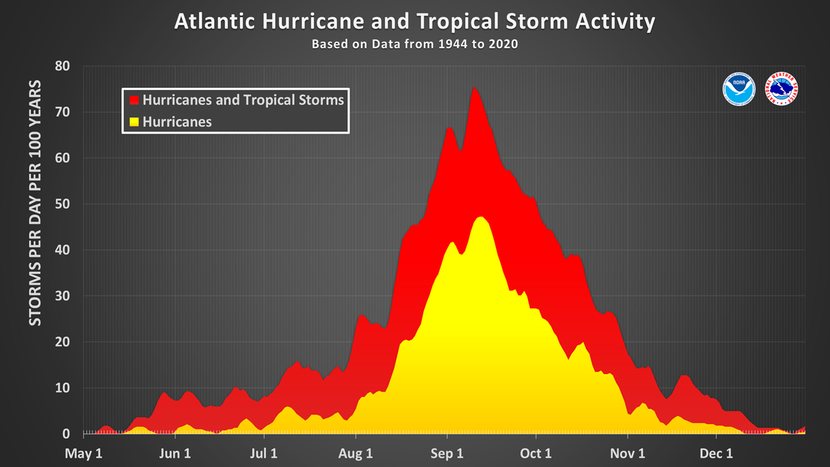 This year's season has had a slow start with only 5 named storms and 2 hurricanes (Danielle and Earl). The latest hurricane, Earl, was downgraded to a post-tropical storm on Saturday evening. The only area of concern right now is a weak disturbance coming off the coast of Africa that has a 30% chance of development in the next 5 days.
Even with the slow start to the season, it doesn't mean that we won't see activity build fairly quickly. In fact, since aircraft reconnaissance began in 1944, only two other seasons had a really slow start with no storms in August. The first came in 1961, which turned into a very active season. This was the year Hurricane Carla devastated the Texas coast.
September can be pretty busy in the tropics. Check out all the areas of development per week in the Atlantic and Pacific.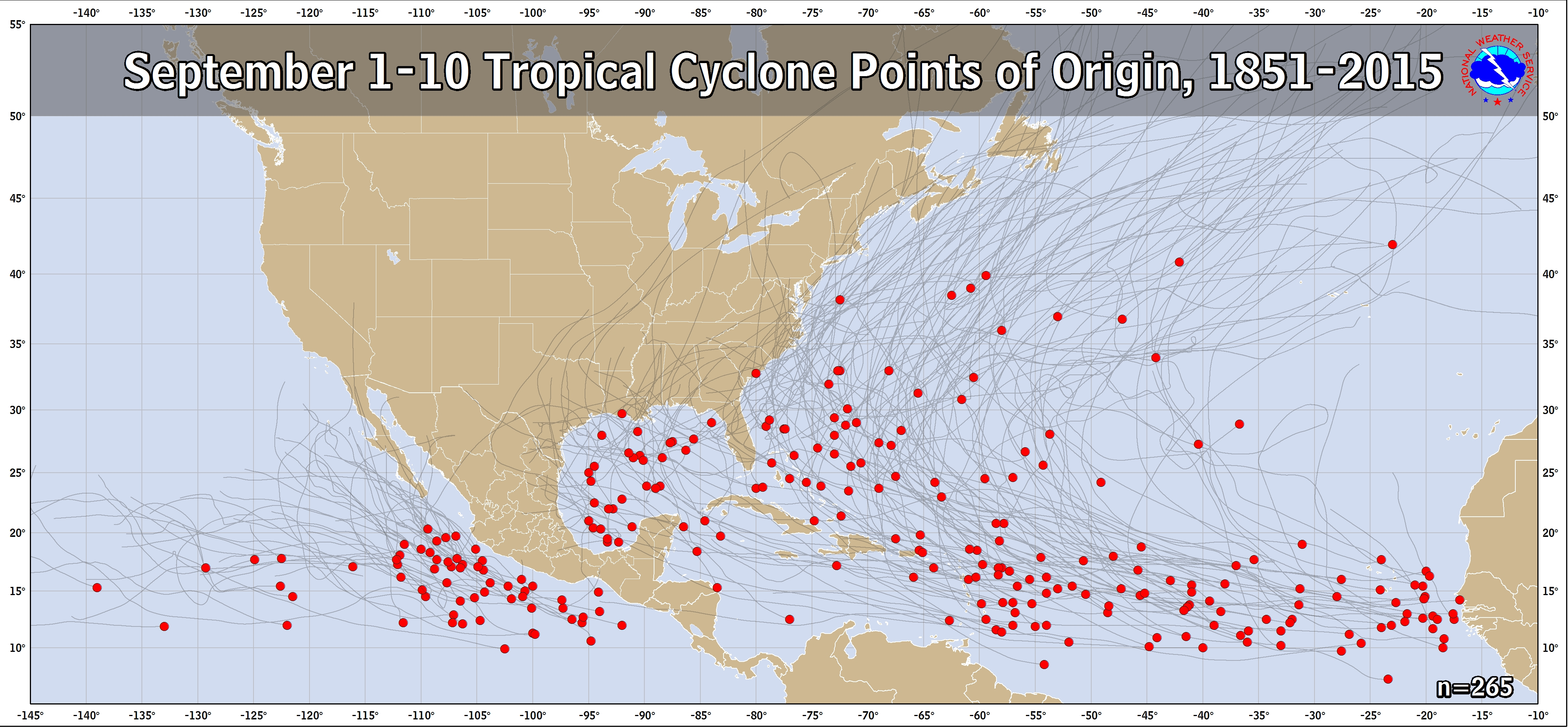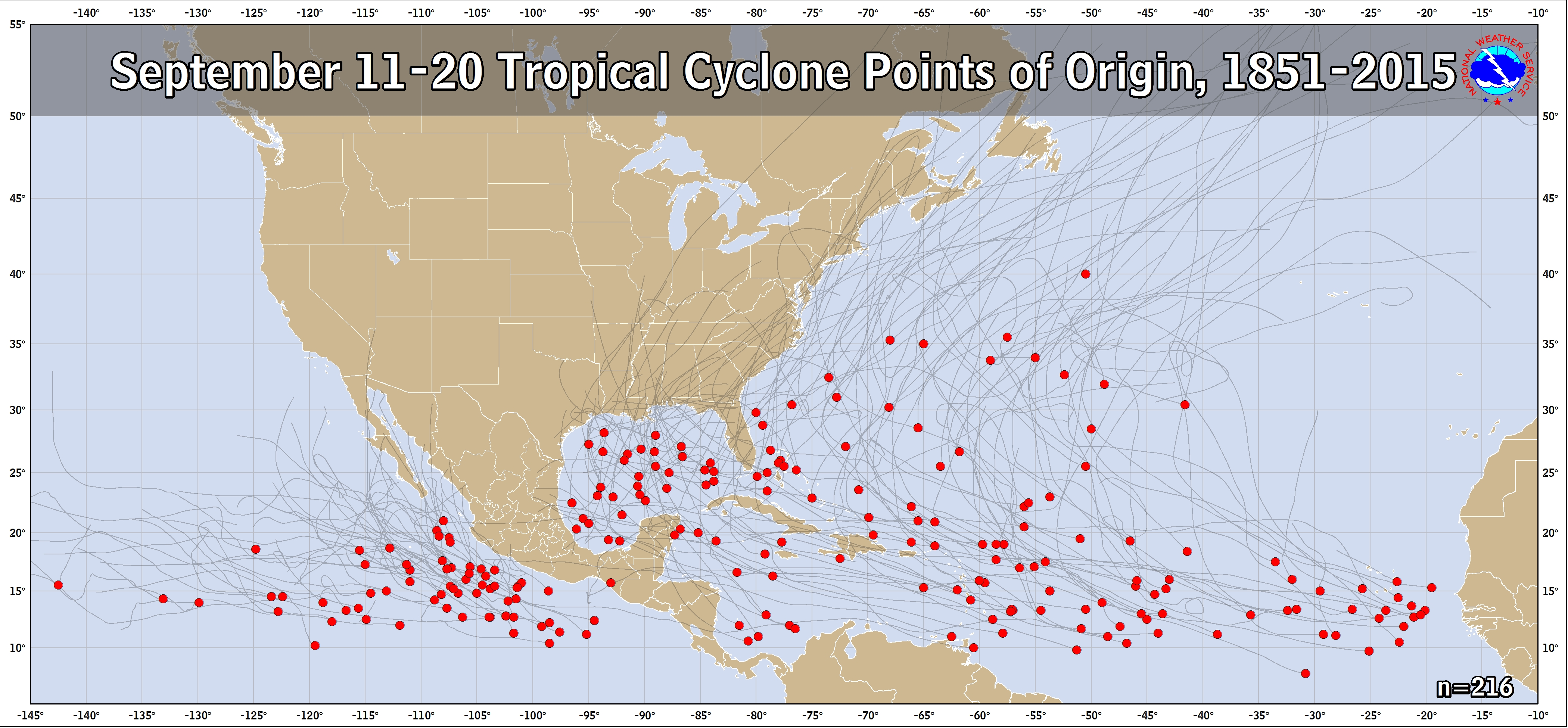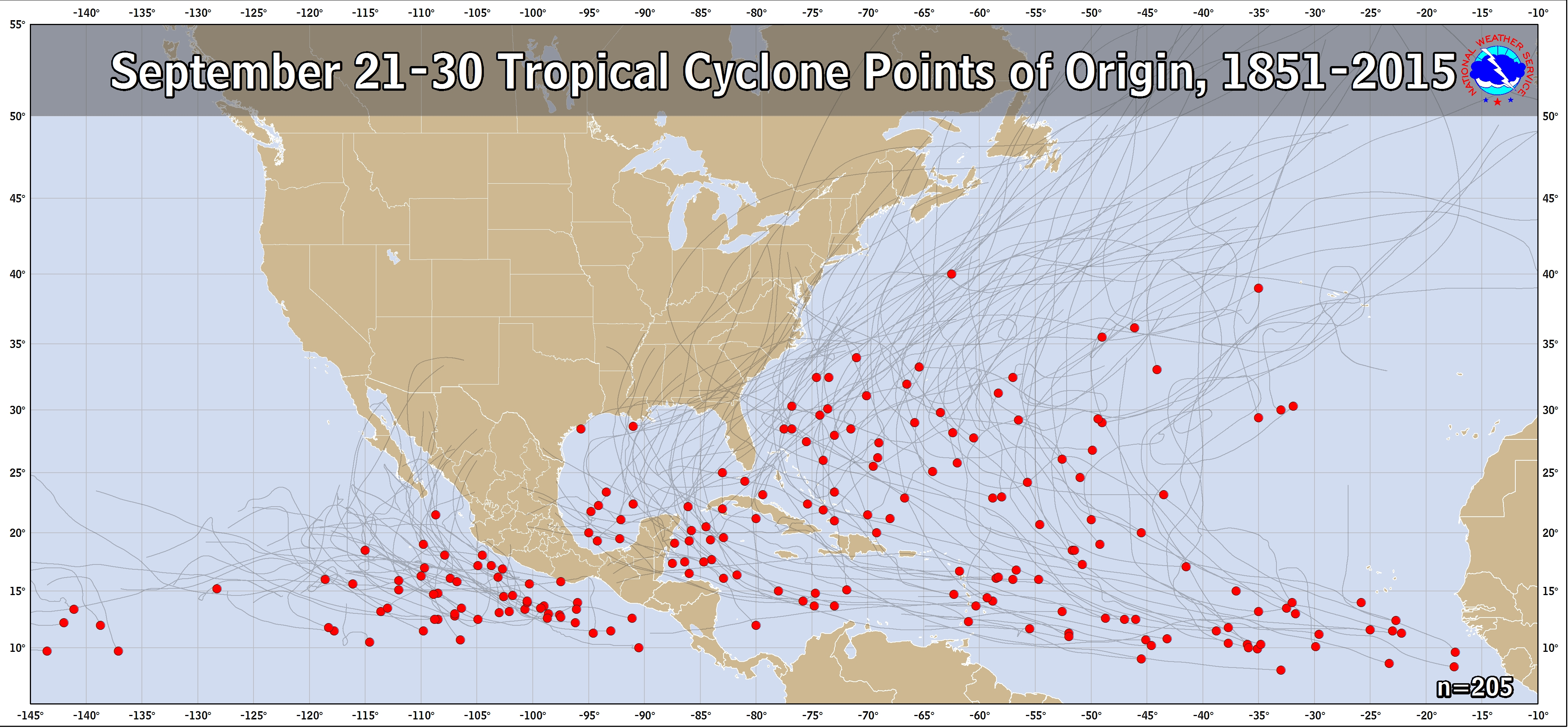 There are several notable hurricanes that developed during this month dating all the way back to the 1800s!
1875 Indianola Hurricane – It started as a low pressure off the coast of Africa on the first day of the month. It intensified over the Atlantic and then emerged in the Gulf of Mexico and then made landfall as a Category 3 storm on September 16th near Indianola, Texas. The hurricane destroyed the town and hundreds of people died. The city tried to rebuild but 11 years later, another hurricane hit and the town was left abandoned.
The Great Miami hurricane of 1926 – This hurricane was of classic Cape Verde origin, since this was before satellites and reconnaissance aircrafts, the storm was a mystery. It was first known to the Weather Bureau from ship reports in the Central Atlantic on September 11th. Even with early reports of the storm from ships, the Category 4 hurricane still came as a surprise with only a 24 hour warning. In these days, storm warnings were centralized in Washington D.C., and then sent to the local offices. Within that 24 hour period, there were not warnings that morning, to tropical storm warnings by lunch and then hurricane warnings right before midnight as the barometer fell. Many people were not familiar with hurricanes, and while the eye was passing, they thought it was over. Little did they know that 35 minutes later, the wind battered the city again and a massive 10 foot storm surge pushed inland, leading to widespread death and destruction.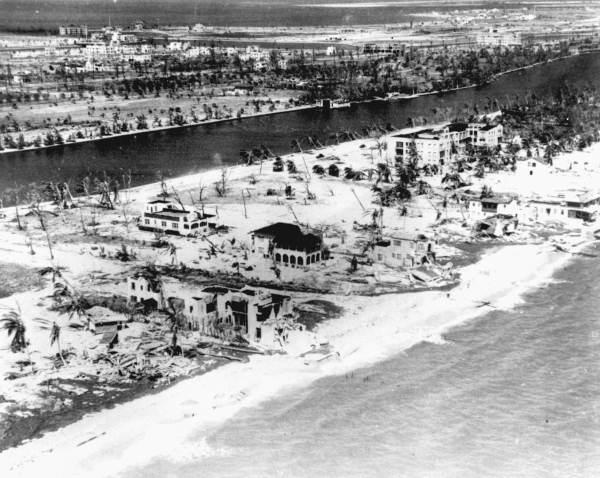 1999 Hurricane Floyd - Floyd was a large and intense Cape Verde hurricane that pounded the Bahama Islands, skirted Florida and struck the coast of North Carolina on September 16th as a Category 2 hurricane. At one point it neared Category 5 strength but an eyewall replacement cycle weakened it before striking. Rainfall totals were as high as 15-20 inches in eastern North Carolina and Virginia. Nearly every river in that part of the state reached flood stage and emergency crews had to make more than 1700 water rescues.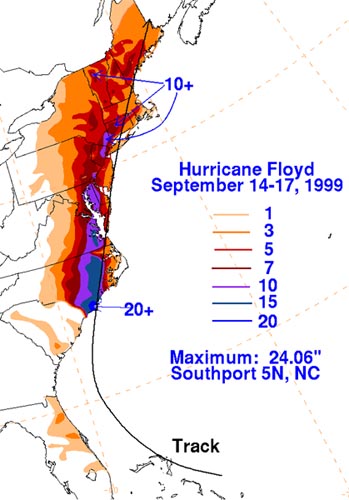 In most recent memory, we had Cat. 3 Hurricane Ivan (2004) make landfall on September 16th near Gulf Shores, Alabama, Cat. 3 Hurricane Rita (2005) made landfall on September 24th, in southwest Louisiana, and Cat. 2 Hurricane Ike (2008) made landfall near Galveston, TX on September 13th.
This season may have started slow but keep in mind that 96% of Category 3, 4 and 5 hurricanes occur from mid-August through mid – October.
Stay ahead of dangerous weather situations and track individual storms so you can plan for any risks. View the latest severe weather watches, warnings, advisories and statements in both text and graphical form on our severe weather page.