The Remnants of Hurricane Pamela Mixed with a Cold Front is Expected to Brings Low Temps and Showers
Written by Sarrah Pelorus
Last updated 10/14/2021, 4:48:01 PM
---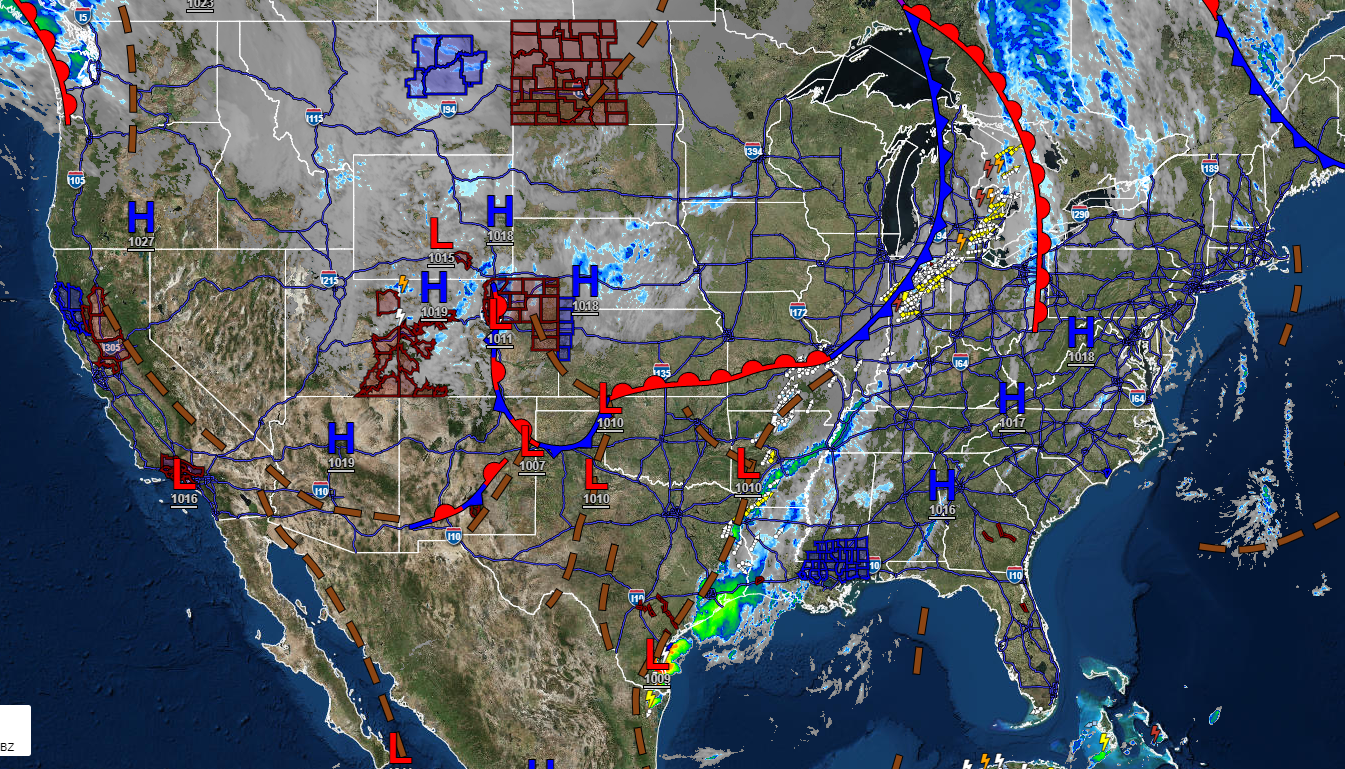 Wednesday night, Hurricane Pamela made landfall along the west coast of Mexico. As the storm continues to weaken, moisture from Pamela is spreading across the mountains of northern Mexico into Texas and the southern Plains, where the threat of flooding will continue through Friday. Flood watches are in effect from Texas into Oklahoma, as tropical downpours may lead to flash flooding. San Antonio, Austin, Waco and Dallas are included in the threat area.
Meanwhile, the East will feel temperatures well above average through the end of the week as a major cooldown is in store for the central United States. Overnight temperatures are predicted to dive into the 40s to end the week.
A slow-moving cold front, which has been hung up across the central U.S. the past few days, will now be migrating east through this weekend. The cold front is expected to drop temperatures down across the country's midsection Thursday and Friday, as Tropical Rainstorm Pamela rides the front bringing heavy rain across central Texas, eastern Oklahoma, northwestern Arkansas, southern Missouri and even southern Illinois.
Accompanying this cold front will be a plethora of drenching showers, rain and thunderstorms across the region, which could lead to localized flooding. Severe thunderstorms will even erupt if the right conditions come together. In the Northeast, strong winds with and without thunderstorms may cause trouble in the form of sporadic power outages and falling trees from Friday night to Saturday night.
Heavy thunderstorms across parts of Oklahoma, Indiana, southern Illinois and southeastern Missouri into Thursday night can have gusty winds associated with them, while the risk for severe weather increases on Friday. Gusty winds, hail, downpours and even a tornado are possible in cities like Cincinnati, Ohio; Louisville, Kentucky; and Jackson, Tennessee; as storms blow through the region.
Luckily, temperatures are expected to rebound soon after this cool spell, by the end of the weekend and into early next week. This will mean above-average temperatures returning to the Central states.
Stay prepared with us at weatherTAP.com! Sign up for a free trial today risk free with no credit card information required at sign-up.