Winter 2022-2023 will be influenced by La Nina for the 3rd year in a row
Written by Mary Triplett, Meteorologist
Last updated 10/22/2022, 5:33:25 PM
---
The days are getting shorter and the temperatures are getting colder, that only means we are getting closer to the winter season. The National Oceanic and Atmospheric Administration released their United States Winter Outlook a few days ago, and it's confirmed that we'll be heading into a La Nina winter for the third year in a row.
La Nina is a weather pattern that occurs in the Pacific Ocean. In this pattern, strong winds blow warm water on the ocean's surface from South America to Indonesia. As the warm water moves west, cold water from deep in the ocean will rise to the surface near the coast of South America.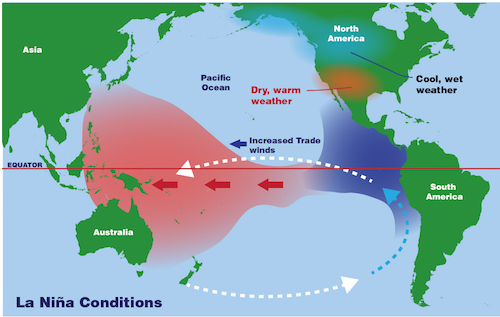 This weather pattern has a global impact because it adjusts the "normal" rainy pattern to a different part of the world. Rain clouds normally form over warm ocean water. La Nina blows all this warm water to the western Pacific and that would result in a wetter pattern for places like Indonesia and Australia. On the flip side, the cold water in the eastern Pacific will cause less clouds to form so places like the southwestern United States can be much drier.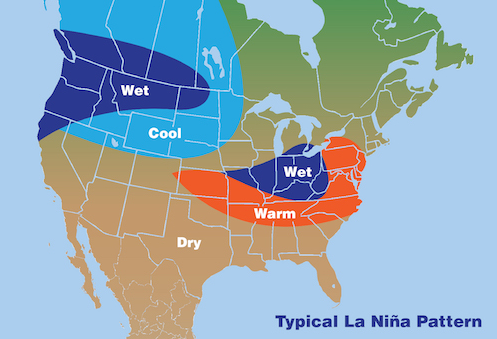 Meteorological Winter starts December 2022 and ending in February 2023, NOAA predicts warmer-than-normal conditions across the southern half of the U.S and colder-than-normal for the Pacific Northwest, northern Rockies and northern Great Plains.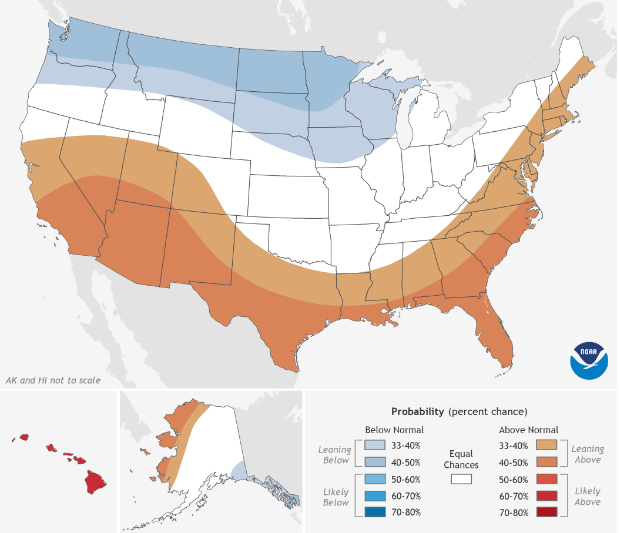 The drought will worsen as 59% of the country is under some form of drought. La Nina brings drier-than-average conditions across the South and wetter-than average conditions for the Ohio Valley, Great Lakes, northern Rockies and Pacific Northwest.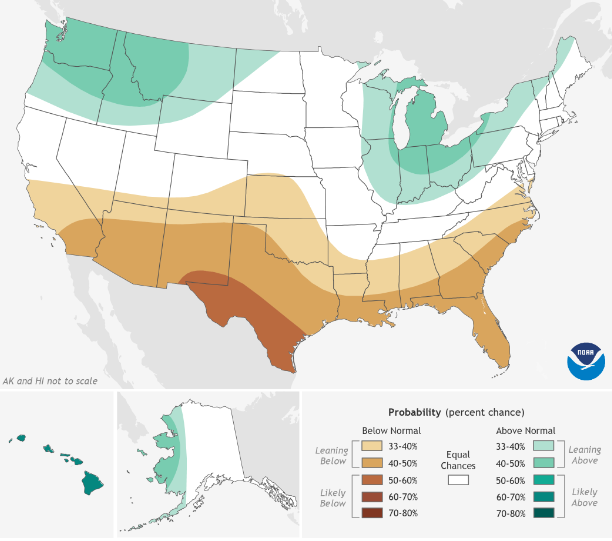 Drought
The drought will worsen as 59% of the country is under some form of drought.
Widespread extreme drought continues to persist across much of the West, the Great Basin, and the central-to-southern Great Plains.

Drought is expected to impact the middle and lower Mississippi Valley this winter.

Drought development is expected to occur across the South-central and Southeastern U.S., while drought conditions are expected to improve across the Northwestern U.S. over the coming months.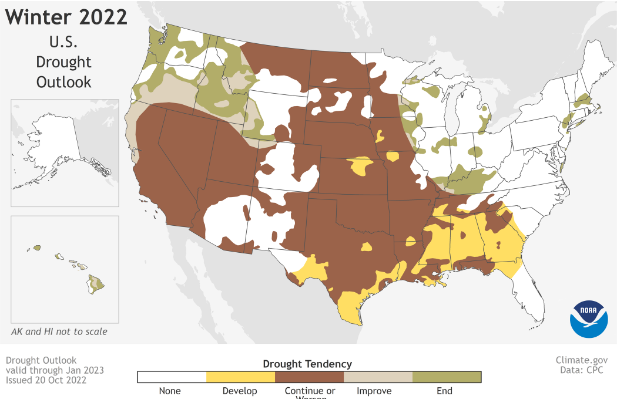 We are 60 days away from the official start of Astronomical Winter, or the Winter Solstice, on December 21, 2022 at 3:49 pm.