Tropical Storm Epsilon Forms in the Atlantic as Another Storm Brews in the Caribbean
Written by Sarrah Pelorus
Last updated 10/19/2020, 3:27:01 PM
---
Monday morning, Tropical Storm Epsilon became the 26th named storm of the hurricane season, beating the previous record of the earliest 26th storm of hurricane season of 2005. The record was beat by over a month with the previous storm forming November 22nd. The storm is approximately 700 miles southeast of Bermuda and is not currently moving at this time. The storm is wrapping around its center of circulation, despite facing upper-level westerly winds creating wind shear over the system. Epsilon is expected to develop into the Atlantic's 10th hurricane of the season by Wednesday. The storm currently faces high pressure to the north forcing the system to be steered towards the northwest. This track could allow Epsilon to move closer to Bermuda as a hurricane within the coming days. It's too early to predict specific forecast impacts for Bermuda, but bands of heavy rain and strong winds are possible.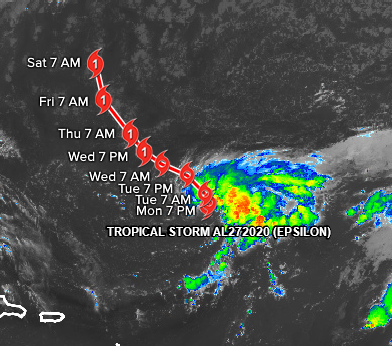 This system is not a threat to the U.S. East Coast at this time. However, the pressure difference between strong high pressure over the North Atlantic Ocean and future Epsilon should eventually generate swells that will push toward the direction of the East Coast which could lead to high surf and rip currents later this week. The rough surf should also extend to the Bahamas, and north-facing coasts of Hispaniola, Puerto Rico, the Virgin Islands and the Leeward Islands.
Meanwhile, In the Western Caribbean Sea An area of low pressure may develop into another Tropical Storm this week east of central America and south of Jamaica and the Cayman Islands. If the broader low-pressure system can tighten up into a more defined circulation with collocated thunderstorm activity, then a tropical depression could form sometime later this week in this area. Beyond that, the strength or final track of this potential system remains uncertain.
The area of low pressure may lead to increased rainfall across the western Caribbean region this week. As of now, it's too soon for forecasters to predict if this potential system will affect any other land areas in the future. This hurricane season has been incredibly active. We are now through 26 storms this season, requiring the use of the Greek alphabet for additional named storms for only the second time on record. Monitor the storms with us at weathertap.com ! Start your free trial anytime. No credit card information required at sign-up.