Tropical Storm Elsa Threatens The West Florida Coast as The Storm Treks Through the Keys
Written by Sarrah Pelorus
Last updated 7/6/2021, 12:02:08 PM
---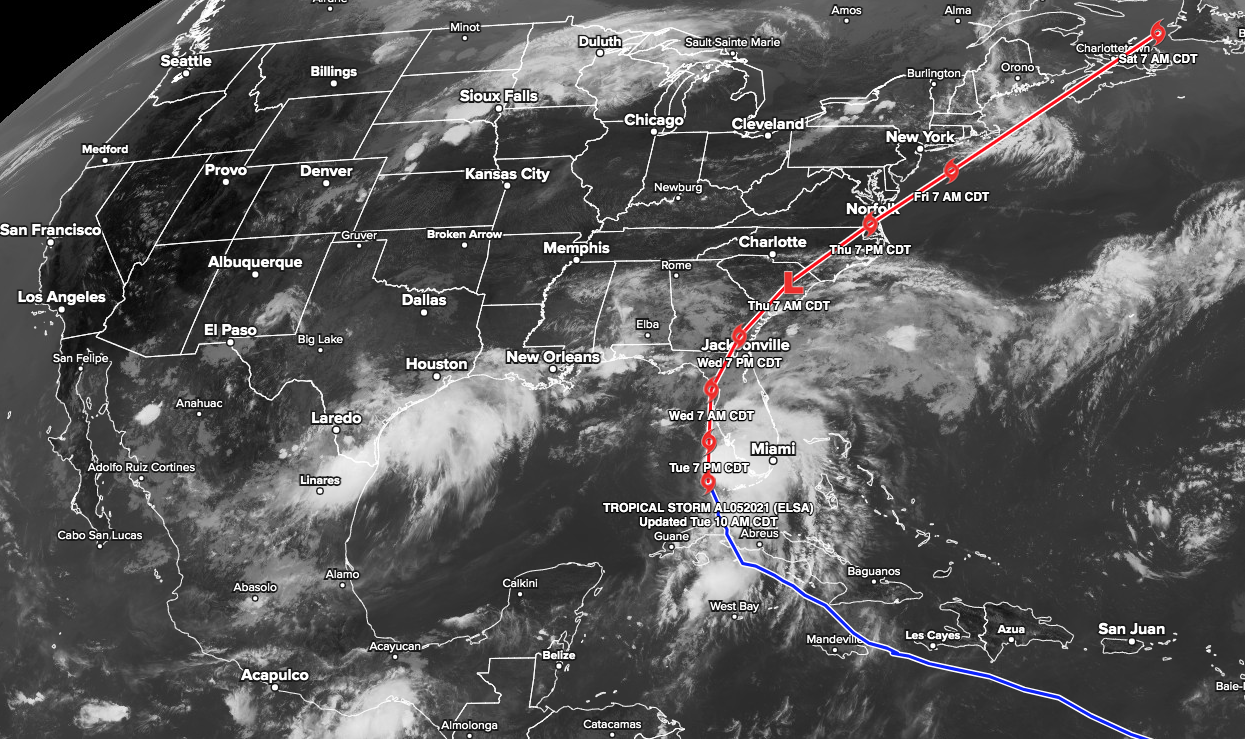 Tropical Storm Elsa is trudging through the Florida keys as the storm moves Westward towards Florida's west coast. The storm is expected to bring heavy rain, strong winds and life-threatening storm surges. Over the weekend, Elsa briefly reached hurricane strength, becoming the first hurricane of the season. The storm made landfall Monday in Cuba and tore through the Cayman Islands, saturating both areas with heavy rain and strong winds, causing landslides and flooding.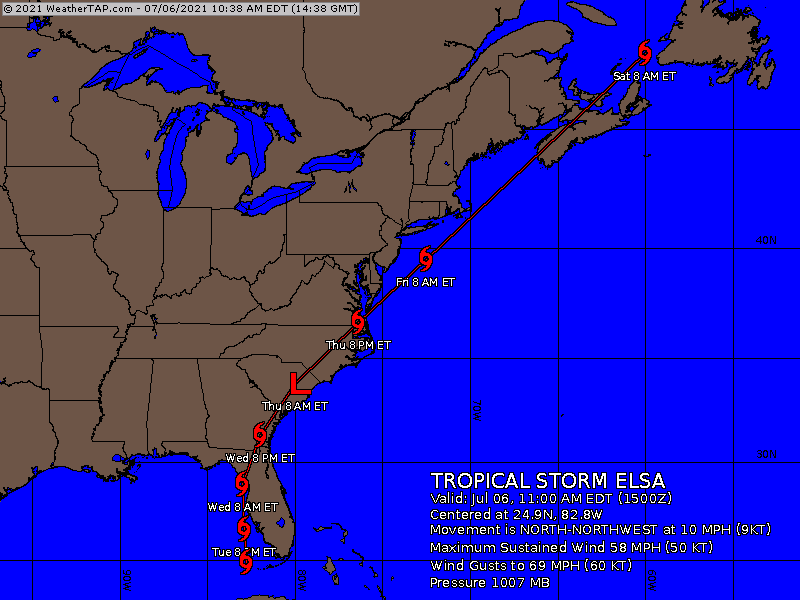 As of 8 A.M ET this morning, Elsa was approximately 55 miles west of Key west with sustained wind speeds of 60 mph according to the National Hurricane Center. The storm is expected to move near Florida's west coast by Tuesday night, and perhaps make landfall by Wednesday morning. Forecasters are not yet sure if the storm will once again fully develop into a hurricane before making landfall. CNN meteorologist Derek Van Dam stated, "the warm ocean water could assist the storm in development as the warm ocean waters give it that fuel for the engine to really fire back up again". Van Dam predicts that the storm could be near or at hurricane strength when Elsa makes landfall by early Wednesday. A hurricane watch, meaning hurricane conditions such as winds of at least 74 mph are either possible or under effect near St. Petersburg in west-central Florida to southern Taylor County in northern Florida's Big Bend region. A tropical storm warning is in effect for much of Florida's west coast. Elsa's outer bands could also drop rain on Florida's eastern side, perhaps affecting areas like the community of Surfside, where search and rescue teams are still combing over the site of a deadly building collapse in Miami. According to the New York Times, the search effort had been halted for much of the weekend amid growing worries about the building's stability, with the approach of the tropical storm. A controlled explosion at about 10:30 P.M. on Sunday brought down the remaining portion of the tower as families continued to await news of the more than 100 people missing since part of the building collapsed 11 days ago. Mayor Daniella Levine Cava of Miami-Dade County told reporters on Monday that the demolition was "executed exactly as planned" and left officials optimistic about safely sifting through the rubble.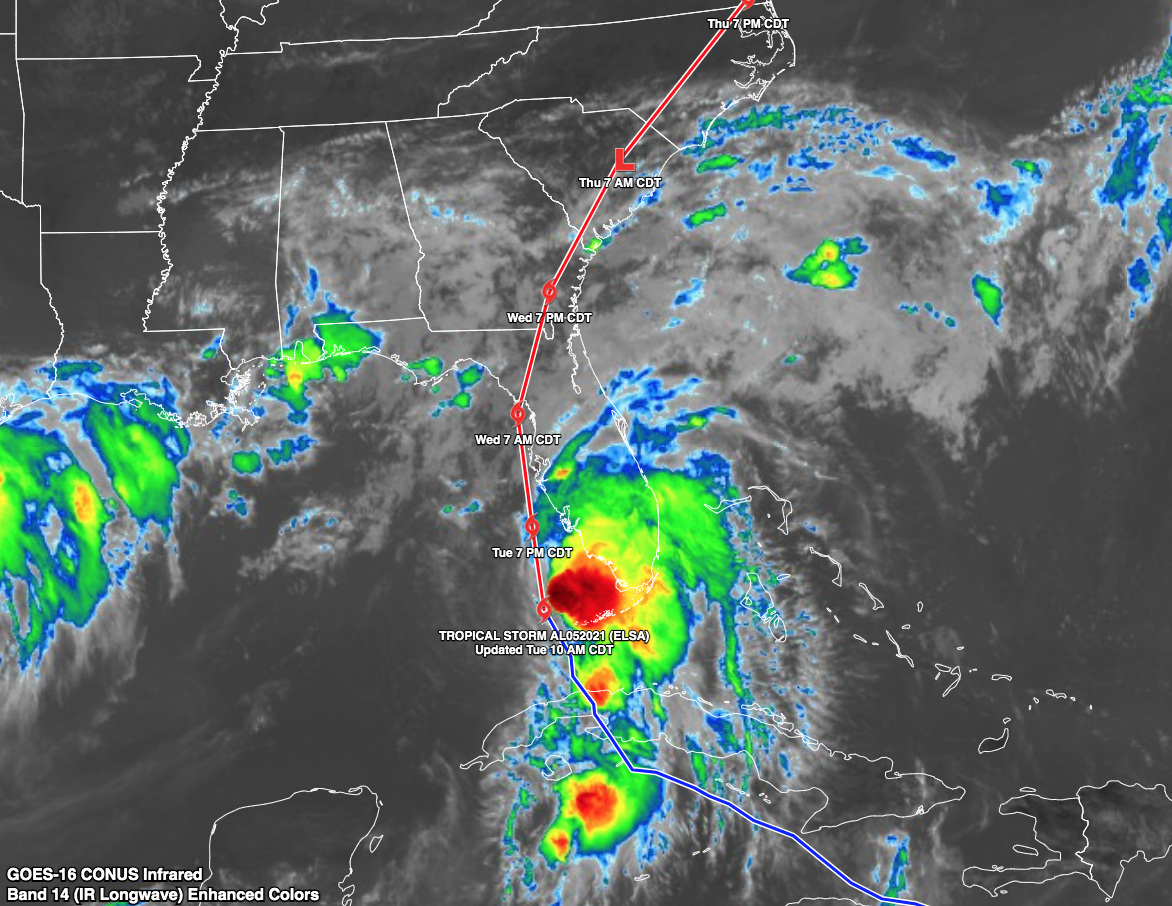 Although the City of Miami is taking precautions, the major wind and rain threats are expected to be primarily in western Florida with forecasters predicting 3 to 8 inches of rain between the Florida Keys to western parts of the Florida peninsula through Wednesday. Storm surge warnings are in place for the west coast of Florida from Bonita Beach through the northern portions of the Big Bend region, with the highest surge expected to be between 3 and 5 feet from Englewood to the outlet for the Aucilla River including Tampa Bay. Isolated tornadoes are also possible. People in southern and western Florida have been preparing by filling sandbags, opening shelters, closing businesses and schools, and activating local emergency operations centers. Gov. Ron DeSantis expanded a state of emergency Monday to cover more than 25 counties and President Joe Biden approved an emergency declaration for the state ahead of the storm. The declaration, which began Sunday, authorizes the Federal Emergency Management Agency to coordinate all disaster relief efforts in southern Florida. Authorities across Florida offered free sandbags to residents to help prevent flooding and are encouraging people to prepare for the storm by stocking up on supplies and heeding local warnings. At least four counties in the Tampa area -- Hillsborough, Pinellas, Hernando and Manatee -- opened shelters for residents, while others have activated emergency operations centers to prepare for the storm. Tampa International Airport said Tuesday it would close to commercial flights at 5 P.M. ET Tuesday, and to cargo flights at 10 P.M. ET. It anticipated reopening Wednesday at 10 A.M. ET.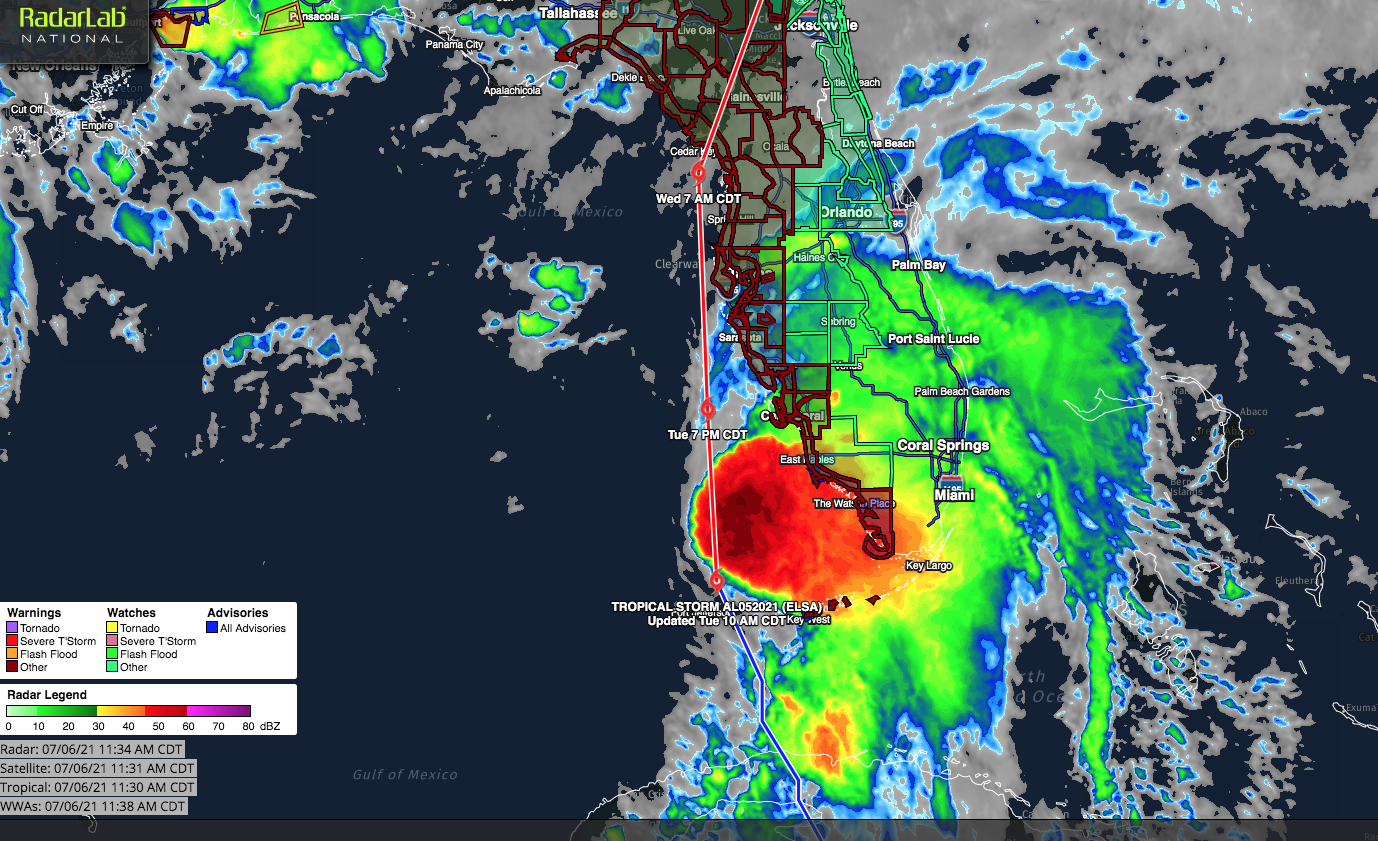 The current forecast following landfall in western Florida has the storm moving to the northeast across the lowlands of Georgia, perhaps as a tropical storm, on Wednesday -- and the Carolinas, perhaps as a tropical depression, on Thursday. It could exit into the Atlantic on Thursday or Friday. Elsa could then be a rainmaker for the extreme eastern seaboard until it pushes into the north Atlantic. This hurricane season is predicted to be more active than ever. Track the storms with us at weatherTAP.com! Start your free trial today risk free with no credit card information required at sign-up. Want to skip the trial? Use the promo code BDAY23 and get 20% off on an annual subscription. Offer valid until 7/31/21.