This Weekend Around 75 Million People Will Be Under A Blizzard Or Winter Storm Warning From North Carolina to the Canadian Border
Written by Sarrah Pelorus
Last updated 1/28/2022, 4:49:55 PM
---
A major winter storm is on track to slam the Mid-Atlantic and North East this weekend putting 75 million people under blizzard and winter storm warnings or weather advisories. As of Friday night, more than 2,000 flights scheduled for Friday and Saturday have been canceled, as snow begins to pound the Northeast. In some areas, the snow accumulation could reach as high as 2 feet, and the snow and wind could yield blizzard conditions, according to the National Weather Service. The storm is expected to bring with it blowing and drifting snow, blizzard conditions for some, thundersnow, damaging winds and extreme snowfall rates.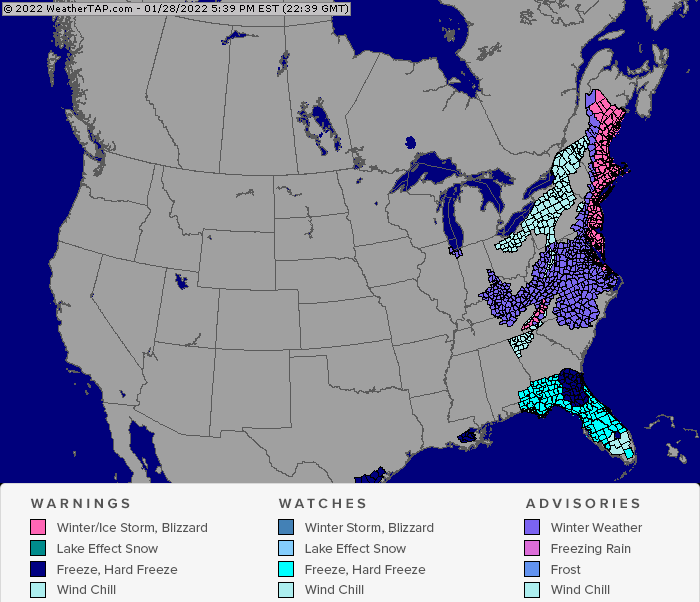 The storm has prompted winter storm warnings from northeastern North Carolina to the Canadian border, with the plastering of snow likely to hamper travel and bring widespread disruption. Blizzard warnings — the first to be issued since 2018 — cover eastern Massachusetts, coastal Maine and the New Hampshire seacoast. They're also up along the shoreline of New Jersey and in parts of the Delmarva Peninsula.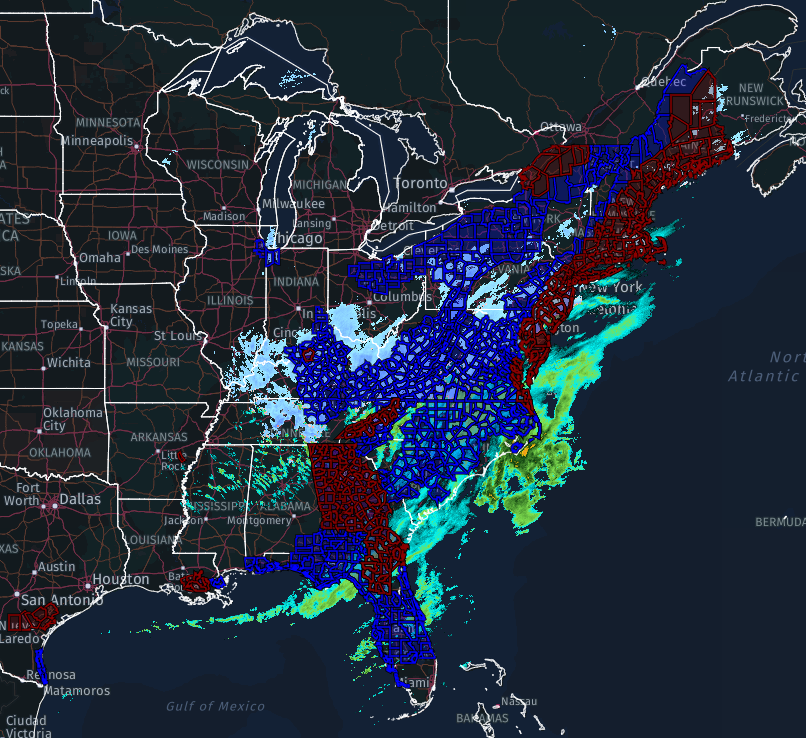 Light snow will break out after midnight Friday, expanding northeastward and becoming moderate Saturday morning. The worst will overspread eastern Connecticut, the tip of Long Island, Rhode Island and southern/eastern Massachusetts shortly after sunrise, peaking in intensity around noon. Plymouth and Bristol Counties, as well as the Cape, could experience snowfall rates of 3 to 4 inches per hour, meaning a foot could come down in about three hours' time. Gusts on the Cape and islands will be about 65 to 75 mph, with gusts of 55 to 60 mph along the eastern Massachusetts coastline. In addition to bringing dramatically reduced visibilities and blizzard conditions, the wind will pile water up against the coastline. The combination of a 1-to-3-foot ocean surge atop already high astronomical tides could bring some localized coastal flood concerns Saturday evening.
Thundersnow is possible on the nose of a "dry slot," or slice of dry air punching into the comma-shaped storm, during a window centered midday. The dry slot could cut back acutely on snowfall accumulations on Cape Cod, but confidence is low. Moderate coastal flooding is expected, too, including in Scituate, Mass., where officials have issued a voluntary evacuation order for vulnerable homeowners at the coast. Temperatures will plummet in the system's wake Saturday night, bringing bitter wind chills that could prove dangerous. Snow will be lighter and fluffier inland where temperatures will be in the upper teens and lower 20s. Most of coastal Maine and New Hampshire will see well over a foot.
In what is projected to be the hardest-hit areas of eastern New England, upwards of two feet of snow is possible, and dozens of flights have been canceled days in advance in preparation for the storm as 85% of flights out of Logan International Airport on Saturday have already been canceled. Boston could nab one of its five most prolific snowstorms on record. The number to beat for first place is 27.6 inches, which fell in 48 hours ending Feb, 18, 2003. As long as Boston picks up at least 22.2 inches, it will make it into the top five. Records at Logan Airport date back to 1936. Cities such as Boston and Providence could be in line for a memorable event. The storm will explosively intensify as it slips just offshore of southern New England on Saturday morning, its breakneck pace of strengthening far exceeding the thresholds needed to classify it as a "bomb cyclone." A number of school districts are canceling classes preemptively for early next week. "Travel should be restricted to emergencies only," wrote the National Weather Service in Boston, warning of whiteout conditions. "If you must travel, have a winter survival kit with you. If you get stranded, stay with your vehicle." On Friday, Boston Mayor Michelle Wu declared a snow emergency. In anticipation of heavy accumulations and high winds, Wu announced a parking ban that will take effect at 9 p.m. on Friday. Under the ban, vehicles parked on major roads and "main arteries" will be towed. City employees have already begun preparations, and the Public Works Department plans to treat roads before snow begins to fall, Wu said in a statement. The city has 38,000 tons of salt and more than 850 pieces of equipment to use on local streets.
A winter storm warning is in effect Friday from Virginia to Maine, according to the National Weather Service. And blizzard warnings have been issued for parts of Maine, Massachusetts, New Jersey, and New York among others. Cape Cod could see some of the highest accumulations. In New York, Gov. Kathy Hochul on Thursday directed state agencies to prepare for the storm. The state's Transportation Department has more than 1,500 large snow plows on hand. The Division of Homeland Security and Emergency Services is prepared to deploy generators and sandbags, among other items. "We are monitoring forecasts and making emergency response preparations for whatever this storm system throws our way," Hochul said in a news release.
Travel disruptions will last into Sunday. Delta Air Lines said Friday that it planned to suspend operations at New York's LaGuardia Airport, John F. Kennedy International Airport. At Newark Liberty International Airport in New Jersey, more than half of Saturday's flights have been grounded. Meanwhile, more than 400 JetBlue flights and more than 350 American Airlines flights across the U.S. scheduled for Saturday have been canceled. Farther up the coast, the Maine Emergency Management Agency encouraged motorists to stay off the roads. Gov. Janet Mills urged people to "be mindful of road crews and emergency responders." Powerful winds and blowing snow could create low visibility, making for "hazardous conditions," said Peter Rogers, director of the Maine Emergency Management Agency.
With subfreezing temperatures expected, it's a good idea to keep blankets, extra layers, hats and gloves in the car. And if you get caught in a storm, experts encourage you to stay in the car. Stay ahead of the storms with us at weatherTAP.com! Start your 14 day free trial today, risk free with no credit card information at sign-up.