Weather with RadarLab : Your Guide to Tracking Temperatures and Storms in Real-Time
Written by MarcAnthony Ramos
Last updated 10/16/2023, 3:56:17 PM
---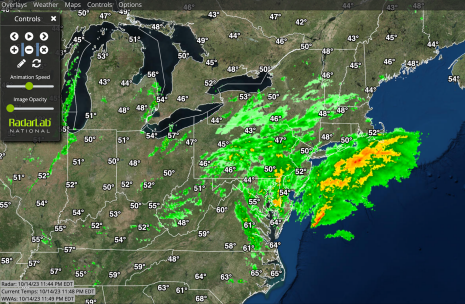 When you look into RadarLab National, things could get a little overwhelming. There are plenty of overlays that you can use to track the area to the best of your capability. But how can RadarLab help? What does it offer? I'll explain two strategies that you can employ in RadarLab that can help you navigate weather, tracking storms in real-time and even temperatures around the area.
Tracking Storms: When opening RadarLab, go to the "Weather" dropdown menu and make sure that "radar" is checked to display the precipitation occurring around the area. (Pro-tip: I would check off winter mask as well when looking at the radar because that will distinguish which precipitation is frozen (snow), mixed, or rain). If you navigate to the "Controls" dropdown menu and click play, you'll be able to see the radar animation like usual which will show you where the precipitation is headed. But there's also another way to tell where some particularly nasty cells are headed–by going to the "Weather" dropdown and clicking "storm tracks." When you enable storm tracks, RadarLab will highlight different cells that are showing some heavier pockets of precipitation and give you a general track estimate of where it should impact next. However, it doesn't just stop there–for certain cells it will give you a location breakdown of the next areas that may be hit and what time that can occur. For example, if a cell that has 35 dbz rainfall is moving Northeast towards Town A, you can scroll over the storm cell and see the "storm path estimate" which lists the time and location where the cell is expected to be. There it will say "12:02pm Town A, 12:05pm Town B, and so on." This can be incredibly useful for mapping out the track on a more local level instead of just inferring that based on radar trends it will be moving Northeast and that's it.
Above is a screenshot that I have attached from RadarLab National which shows the storm path estimate of a cell in a system that has soaked portions of the Northeast on Saturday. This feature also exists on RadarLab Local which I have also added a screenshot of to show you on both scales. The feature is meant to act as an aid to forecasting capabilities, giving you the tools you need to see where the models expect it to impact next based on recent trends. While no feature is entirely infallible and some locations may not be 100% accurate, it gives you a general consensus of the region where we can expect this cell to hit and could help residents know to stay indoors during this period of time, even if it is just a few minutes notice. The feature also tells you the speed and movement at which this storm is advancing as well as echo tops and intensity which can allow you to further deduce where it will be at a certain time and whether there are embedded downpours or moderate showers. RadarLab, on top of the radar, can also provide the regions of warnings/advisories that were issued by the National Weather Service and are entirely interactive so you can read the warning text without ever having to leave the website. Not only can RadarLab do this, but it has other features not described in this article such as my personal favorite, local storm reports that can report details such as flooding on roadways, downed trees, or other weather hazards that have impacted the community.
Temperature Check: When we think about software that utilizes radar imagery, we might think about storm tracking, satellite, and so on, but temperature might not be the first thing that crosses our mind. One thing I love about RadarLab is that the software integrates current weather information such as temperature and it remains interactive. For example, if you go to the "Weather" dropdown menu, and click "current temps," many locations that has real-time weather information will pop up with those temperatures. But what sets it apart from other websites is you can click the temperature and get a report of that location, such as hourly precipitation, temperature and wind chill/heat index, sky conditions, visibility, and the extended forecast all for that specific location. All of that information is visible by just clicking on the temperature at the location you want to read more in-depth about. This is especially convenient for those wanting to see what the conditions are now and over the next few hours and days, not just at one location but at several locations. This can be very beneficial in building a forecast that covers a general region with a few key cities mixed in. Below is a screenshot that showcases the temperature pop-up feature that can prove useful in your RadarLab experience.
Of course, there are plenty of tools that are useful on this website that were not covered in this article, such as how to personalize your own dashboard or the lightning interface that is also available via this site–but radar tools to track storms and temperatures are some cool areas that I think also need some attention as well. With all this information in mind and the fall season well underway, enjoy all that Autumn weather has to offer, whether it be falling temperatures, rainstorms, first freeze, etc. and happy tracking! the autumn season comes a chance to experience nature's spectacular. Currently, across the Midwest and the Northeast you can catch vibrant displays of the leaves changing color. In the Adirondack Mountains of Upstate New York, peak leaf color is expected now and bright shades of red, yellow, and orange have been reported along with golden hues. In the higher elevations of the Catskills, color is near its midpoint with brilliant hues. Closer to New York City, leaves are beginning to change color and more golden color is emerging. Look for change to continue gradually as temperatures are already in fall-mode here near the mid-60s as daytime highs in NYC and even dropping into the upper 50s by next week. Color should be approaching its peak within the next week or two across the upper Northeast, the lower portion of the Northeast is seeing partial change of color currently and can see its midpoint within the next week or two, and the Mid Atlantic should start to reach partial status. While the news constantly changes and the world takes us through so many hoops and hurdles, one thing stays constant, the ability to rely on nature's clock and create a painting unlike any other across the landscape, the vibrant rich colors swaying in the breeze that only comes once a year. So step outside and enjoy it while it lasts!