An Update on What Was Likely the Largest Tornado Event in History
Written by Sarrah Pelorus
Last updated 12/14/2021, 2:20:37 PM
---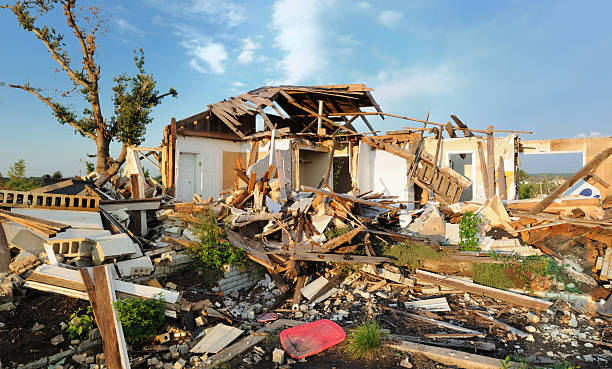 The death toll in Kentucky climbed up to 74 as of midday Tuesday. Gov. Andy Beshear said in a briefing, "If there's good news, it's that our death count has not gone up since yesterday — and that is good news,". He followed, "Again, each one a child of God irreplaceable in their community." This update came in after President Biden approved emergency declarations for Illinois and Tennessee, two other states that were struck by the recent deadly string of tornadoes. Monday, President Joe Biden announced he will travel to Kentucky later on this week to survey damage from tornadoes and severe storms. "I intend to travel to Kentucky on Wednesday. And with each passing day, the human impact of this devastation -- just the depths of the losses -- are becoming more and more apparent", Biden told reporters on Monday during an Oval Office briefing on the storm with homeland security officials. Biden added that the administration will work to set up federal disaster centers and will be working alongside state governments and non-profit organizations in the storms' aftermath. "We're gonna get this done. We're gonna be there as long as it takes to help. And the combination of state, federal, and volunteer organizations do everything from helping clearing the debris but provide the necessary means to move, get schools reopened, making sure that homes are going to be rebuilt, etc. So there's a lot, a lot, that needs to be done", Biden said. The White House announced Biden will travel to Ft. Campbell, Kentucky, for a storm briefing, and to Mayfield and Dawson Springs to survey storm damage. The President said he is working with Kentucky Gov. Andy Beshear to make sure he is not in the way of recovery efforts.
In Kentucky, Beshear said more than 100 people are unaccounted for. He added, "but multiple local and federal search and rescue missions continue". Kentucky Gov. Andy Beshear said at a press conference on Monday afternoon that the confirmed death toll in his state had risen to 74 in the wake of the historic tornado outbreak, with at least another 109 unaccounted for throughout the state. "We expect that this death toll will continue to grow", Beshear said, noting that the numbers he provided may differ slightly from those of individual coroner's offices. The governor said the actual number of those still missing was likely "way more" than the number he gave and that the search for the missing was ongoing.
Click here for before and after photos of the destruction after the storms.
Combined fatalities from the historic tornado outbreak in Illinois, Tennessee, Arkansas, and Missouri totaled at least 14, according to The Associated Press, making the death toll from the tornado outbreak 88 across five states. There were a total of 34 confirmed tornados across eight states in the weekend outbreak, seven of which were rated EF-3 strength by the National Weather Service. One of the 34 confirmed tornadoes that occurred under cover of darkness Friday night had an approximate 227-mile-long-path of destruction spanning four states, with 200 miles of destruction in Kentucky alone. As of Tuesday, surveys are still ongoing and will continue throughout the week in what is expected to go down as one of the largest and deadliest tornado events in United States history.
Small towns throughout Kentucky began the long process of picking up the scattered pieces on Monday. Mother Nature's force spared no one, with the ages of victims ranging from 5 months to 86 years in the state, Beshear told reporters earlier on Monday while holding back tears. No area was brutalized quite like Mayfield, a town of about 10,000 in the western part of the state. A few buildings were left standing in Mayfield, a town that resembled a war zone. One building among the rubble was the candle factory, which had been "going 24/7" in part to meet Christmastime candle demand, U.S. Rep. James Comer, who represents the area, told CNN. The Kentucky National Guard said on Monday that company officials of Mayfield Consumer Products, owners of the Mayfield candle factory, reported that 102 of the 110 workers who were inside the factory when the tornado hit are alive and have been accounted for, drastically reducing the initial death toll fears. "We are actively working to confirm that information," Beshear said. "We pray that it is true." Workers at a Kentucky candle factory have claimed that they pleaded with managers to be allowed to leave as a deadly tornado barreled towards them last weekend – but say they were told they would be fired if they left their posts. Multiple employees of the Mayfield Consumer Products factory told NBC News that they took shelter in bathrooms and hallways when they first heard tornado warning sirens, then supervisors ordered them back to work when they mistakenly assumed the danger had passed.
"I asked to leave and they told me I'd be fired", Elijah Johnson, 20, told NBC, claiming that he was among a group of about 15 concerned colleagues who were refused permission to evacuate. "'Even with the weather like this, you're still going to fire me?'" He said he asked his manager. The manager replied, "Yes," Johnson said, adding that bosses took a roll call to find out if anybody had already left. Images of the wreckage of the scented candle factory, one of the largest employers in western Kentucky, has become symbolic of the devastation caused by the unseasonal tornado that killed dozens across several states.
Some have already questioned why the factory was even operational that night. According to NBC the company is denying the allegations. "It's absolutely untrue. We've had a policy in place since Covid began. Employees can leave any time they want to leave and they can come back the next day," said Bob Ferguson, a company spokesperson. Ferguson said managers had not told employees that leaving their shifts meant risking their jobs, and that company management had followed emergency protocols from the Federal Emergency Management Agency and the Occupational Safety and Health Administration. Beshear told reporters that the Kentucky Division of Occupational Safety and Health Compliance would undertake a months-long review of the deaths at the factory.
As of Tuesday, over 25,000 customers in western Kentucky were without electricity, according to PowerOutage.US. Graves County, the county where Mayfield is located, accounts for roughly 5,000 of those outages. In addition to the outages, more than 10,000 homes and businesses have no water, and another 17,000 are under boil-water advisories Michael Dossett, director of Kentucky Division of Emergency Management, told reporters. "Our infrastructure is so damaged. We have no running water. Our water tower was lost. Our wastewater management was lost, and then there's no natural gas to the city, so we have nothing to rely on there," Mayfield Mayor Kathy Stewart O'Nan said on "CBS Mornings." "So that is purely survival at this point for so many of our people."
An incident support base was established at Fort Campbell to deploy personnel and supplies, including generators, meals, water, cots, blankets, childcare kits and pandemic shelter kits, Beshear said Monday evening. Schools in Mayfield and the surrounding areas have canceled classes until the holiday break that was set to begin later this month, Wadell reported, due to the extent of the damage and upheaval to lives in the storm zone.
The recovery efforts are more likely to be tracked by years, rather than months or weeks, Kentucky emergency officials said, according to NBC News. "This is not going to be days or weeks. This will be a recovery effort that goes on for years," Dossett said. He added that officials were in the process of drafting a plan to move forward and reconstruct the damaged areas, but he warned "this doesn't happen overnight." Mayfield residents told NBC News that they were ready to rebuild their town, slowly but surely. Beshear fought back tears as he addressed his state, sharing that he lost several family members when the powerful tornadoes ripped through Kentucky on Friday. "I'm still emotional after a couple of days. [I] just learned that my uncle lost a couple cousins in Muhlenberg County," he told CBS, adding that half of his father's hometown of Dawson Springs, Kentucky, "doesn't exist anymore." Beshear has established the Team Western Kentucky Tornado Relief Fund to assist those impacted by the tornadoes. The money raised will go towards funeral expenses and then to rebuilding efforts. "We are tough people. We're going to get through it, but it is not going to be easy," Beshear stated.
While Kentucky was the hardest-hit state, bordering states felt the wrath of the twisters. One was confirmed dead after a tornado ripped through a nursing home in Monette, Arkansas. In Edwardsville, Illinois, six were confirmed dead after a tornado destroyed an Amazon distribution center.
The tornado catastrophe in Kentucky is coinciding with a rise in the number of new coronavirus cases in recent days, Beshear said in a press conference Monday evening, displaying a graph that showed cases had recently begun trending upward. He said the state hadn't fully emerged from a surge that began back in late July. Also on the rise, according to the governor, is the number of Kentuckians being treated for COVID-19 in ICUs throughout the state. Beshear said he was confident hospitals would be able to handle a continued escalation of cases, but that the tornado outbreak has complicated health care in the state. "Our hospital capacity is probably a little bit less than it was during the [most recent] surge," Beshear said.
It will take days, weeks and even months for the National Weather Service (NWS) and local officials to comb through the devastation and determine precisely where this particular outbreak ranks, but early indications point to it being one of the worst in recorded history. Should this path length be confirmed by storm surveys, this tornado would beat the infamous Tri-State Tornado from March of 1925 for the longest distance in U.S. history. The Tri-State Tornado tore through Missouri, Illinois and Indiana for three and a half hours and 219 miles, leaving nearly 700 people dead.This month has become the deadliest December for tornadoes since 2015 when 26 deaths were blamed on tornadoes. Furthermore, this year has become the deadliest for tornadoes in the United States since 2011, when 553 were killed by twisters, according to an analysis of NOAA data. There had been 14 tornado-related deaths in the U.S. this year until Friday.
The director of Kentucky's Division of Emergency Management, Michael Dossett, said efforts were already underway to start rebuilding following the disaster from this weekend. He said officials were drafting a plan to move forward but warned residents that "this doesn't happen overnight." Officials in several counties say the best thing people can do is keep roads clear as emergency responders continue clearing debris and assessing damage. But nonprofits and community members have already begun collecting donations for families who've lost their homes and everything in them.
Gov. Andy Beshear has established a fund to assist tornado victims and begin rebuilding. Donate at secure.kentucky.gov/formservices/Finance/WKYRelief or by sending a check to Public Protection Cabinet, 500 Mero St., 218 NC, Frankfort, KY 40601.
Tragedies like these are often unavoidable however, there are steps you can take to insure you and your loved ones are weather ready. Click here to view a guide on taking steps to weatherproof your home and you can also view our tornado checklist here. Want to know when bad weather could be ahead? Sign up for a subscription to weathertap.com and stay weather ready all year long. Signup now with the promo code SVRWX1221 to save 10% off on an annual subscription. Want to gift weatherTAP? Give a gift code to protect the weather enthusiast in your life this holiday season.
*Gift codes cannot be purchased with any promotions or offers.
*Promotion SVRWX1221 is only available until 12/17/2021 and is not available with any other offers or promotions.
*Promotion SVRWX1221 is not available for renewal at the end of the term.