A historic deluge in Florida left many under water and the airport closed until Friday
Written by Mary Wasson, Meteorologist
Last updated 4/14/2023, 2:19:36 PM
---
This week a huge rain event in Florida made headlines across the country. Fort Lauderdale experienced the rainiest day in history, a 1-in-1000 year rain event where over 2 feet fell in a matter of 8 hours!
A flash flood emergency was issued for Broward County on Wednesday and Thursday which prompted emergency rescues, forced drivers to abandon cars, shut down schools and forced the airport to close through Friday morning. City officials said that Ft. Lauderdale's stormwater system was built to handle 3" of rain in 24 hours not almost 26". Florida Governor Ron DeSantos declared a State of Emergency for Broward County.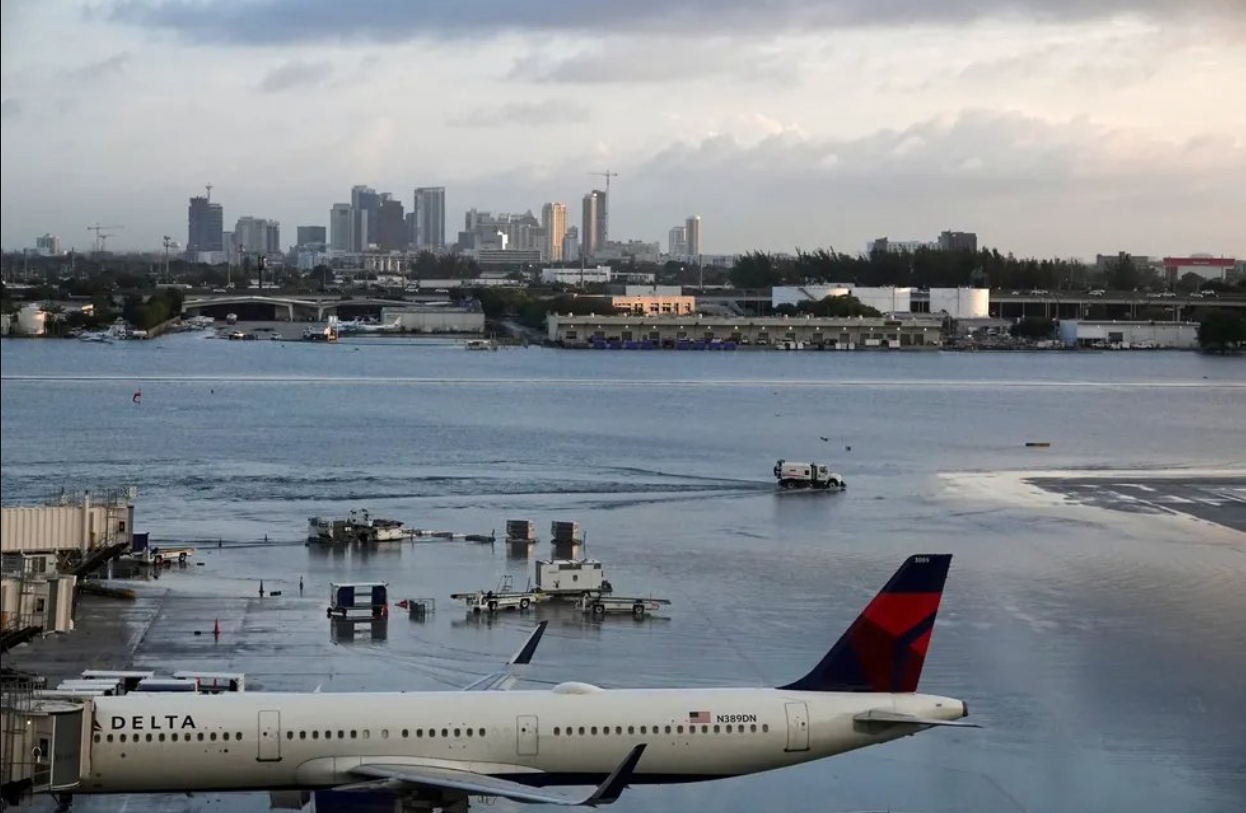 How did this happen? It was basically was the perfect storm of ingredients. The entire atmosphere was primed for a heavy rain event, even earlier that day the NWS had issued a risk of excessive rain for this area. A frontal boundary was slowly moving north through the area and storms had started to develop. The lower part of the atmosphere had a east -southeast flow coming off the Atlantic bringing in moisture, the mid-levels had a good southerly flow which also brought in moisture, and above all that we had a west wind in the upper atmosphere. This helped keep the storms elevated and basically stationary for several hours.
Check out this radar loop and image from the NWS.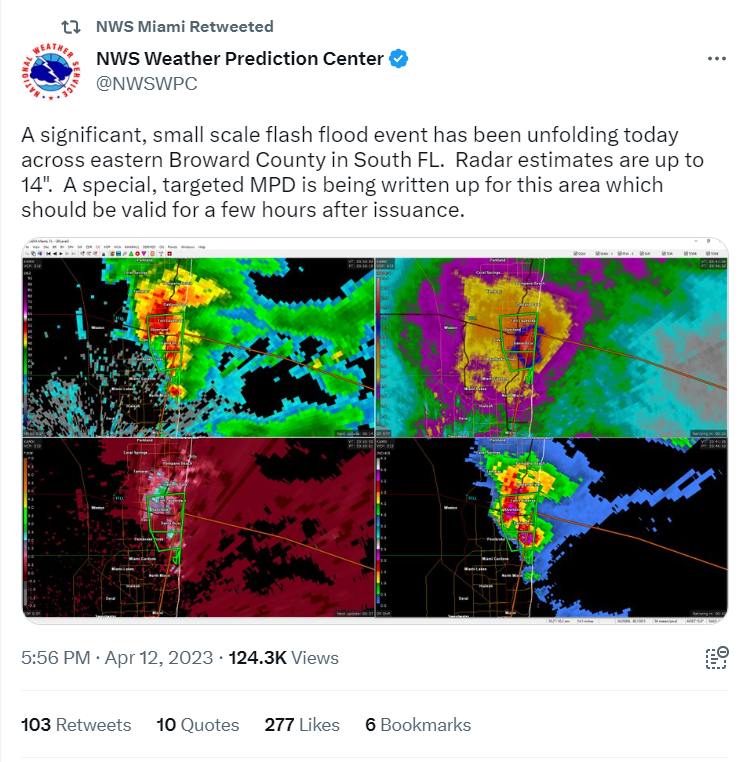 Rain totals were very high across Broward County and Fort Lauderdale. One-third of the average yearly rain fell in a half a day which broke multiple records.
31.53" - Tangelo Isle
30.02" - Mandarin Isle
25.93" - Riverland
25.91" - Airport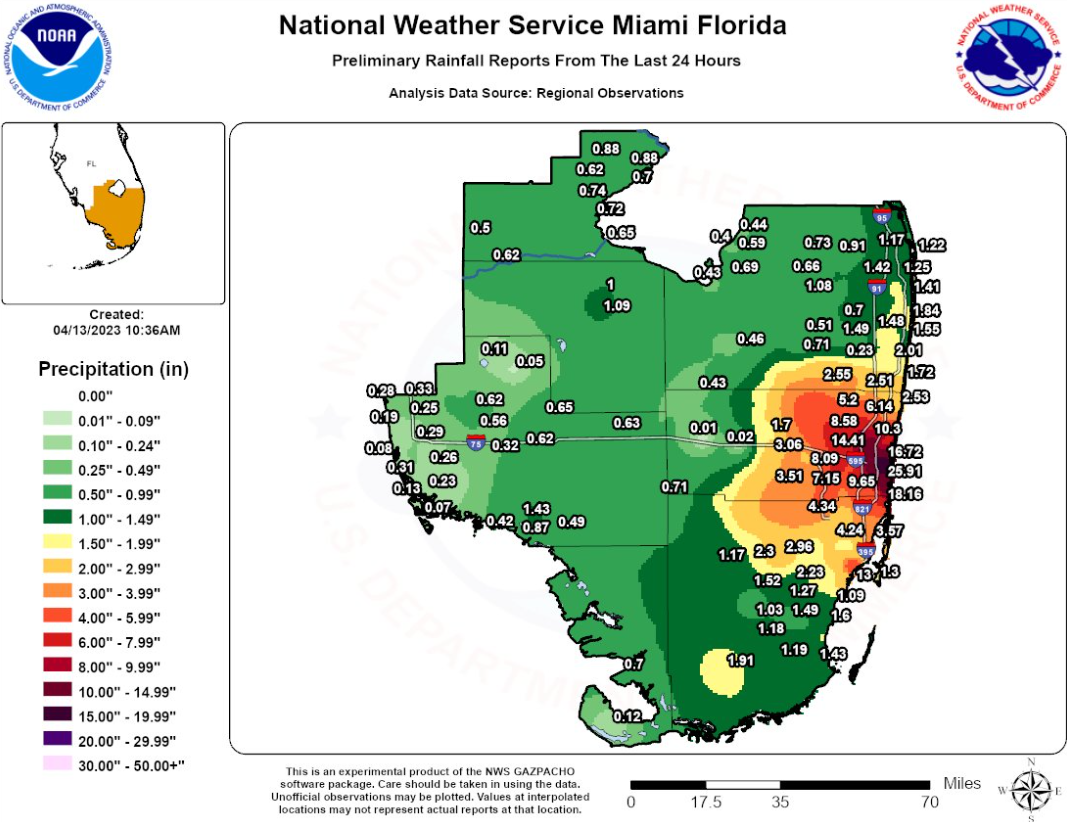 The almost 26" rain total at the airport will go down as the all-time highest 24-hr rain total in Florida. The previous record was 23.28" which was recorded in Key West on November 11-12, 1980. April 2023 will go down as the wettest April on record in Fort Lauderdale.
How does this compare to the U.S. records? Well, it really doesn't … however, the country's top 24-hour rainfall records happened during a tropical storm, a hurricane and in the middle of the rain forest.
49.69" April 2018 in Kauai, Hawaii
42" July 1979 in Alvin, TX (Tropical Storm Claudette)
32.52" July 1997 in Dauphin Island, AL (Hurricane Danny)
This severe weather season has been one for the record books as we've had 410 tornadoes for far this year and that surpasses the 2017 record of 398. Stay on top of the ever changing weather with WeatherTAP's customizable RadarLab.