25 Million People in the South East Prepare for Possible Nocturnal Tornadoes Friday As 5 Million in the West Prepare for Wide-spread Winter Weather
Written by Sarrah Pelorus
Last updated 12/10/2021, 4:19:16 PM
---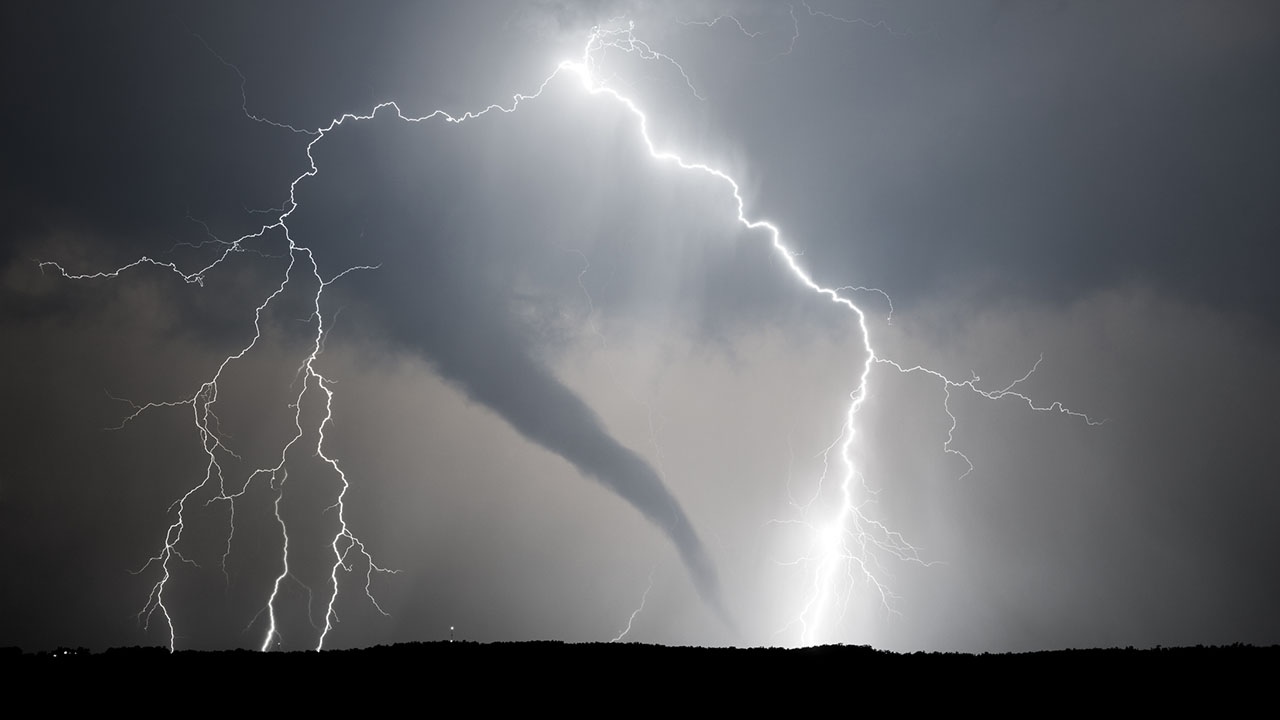 As winter weather is just getting started in some parts of the country, the weather in others is set to serve up severe thunderstorms capable of producing several tornadoes on Friday and into the overnight hours, for more than 25 million people from Texas to Ohio.
"Confidence has increased in a more favorable corridor for organized severe thunderstorms Friday night into early Saturday morning from roughly the vicinity of the MS River in eastern Arkansas and northern Mississippi northward into parts of the lower Ohio Valley," the Storm Prediction Center (SPC) told CNN Thursday morning.
A level 3 out of 5 "enhanced risk" has been issued for the greater Memphis area, along with Nashville; Evansville, Indiana, and much of western Kentucky. A level 2 out of 5 "slight risk" stretches farther out to include areas right along the Mississippi River as well as the Ohio River Valley. This includes Little Rock, Arkansas; Jackson, Mississippi; Shreveport, Louisiana; and Louisville, Kentucky The main threats for all of these areas will be damaging winds, large hail and tornadoes.
The "enhanced risk" area has the greatest probability of strong EF2-EF5 tornadoes. An EF2 tornado has winds of at least 111 mph or higher, and an EF5 tornado has winds that exceed 200 mph.Forecasters are also concerned the storms are projected to hit overnight. "Severe thunderstorms capable of producing several tornadoes and scattered to numerous damaging winds appear probable from mainly Friday evening into Friday night across parts of the lower/mid Mississippi Valley into the lower Ohio Valley and Tennessee Valley," the SPC says. "Some of these nocturnal tornadoes may be strong."
Nocturnal Tornadoes are statistically more dangerous than their diurnal counterparts. As tornadoes occur during the day, usually people make a conscious effort to seek out weather alerts. At night, when everyone is sleeping it often catches many off guard and unprepared.
Interestingly, the amount of Tornadoes an area impacts often does not reflect the number of yearly casualties. Texas on average has 140 tornadoes every year, the most of any state. Kansas, Florida, Oklahoma, and Nebraska round out the top five. However, despite Alabama having on average 42 tornadoes per year more than three times fewer than Texas it is at the top of the list for tornado fatalities. Alabama averages 14 tornado fatalities per year, almost double the next highest, Missouri's eight deaths per year.
Southern states such as Tennessee, Kentucky and Arkansas also see more tornadoes overnight than any other states. This can lead to higher fatalities, since many people are sleeping and unaware that a tornado is in the area.
"Tornadoes in the Southeast tend to be more dangerous than their Great Plains counterparts," says CNN meteorologist Brandon Miller. "There are a number of reasons for this, some weather and some geographic. Southeastern tornadoes often travel faster, moved by a faster jet stream." On Friday, the severe storms are expected to push through many Southern States making it essential for families to stay prepared and monitor the weather.
"Friday night is a time window that everyone needs to watch closely, have multiple ways to receive weather alerts, and know exactly what your plan of action is in case severe weather threatens," the National Weather Service office in Paducah, Kentucky, said Thursday.
As the southeast prepares for nocturnal tornadoes, winter weather returns for a large section of the US. Snow is expected to blanket a large part of the country from the Intermountain West to the Upper Great Lakes through Saturday with over 10 million Americans are under some form of winter weather alerts from this system. Light snow fell Friday morning at Denver's International Airport, meaning the area finally recorded its first measurable snow of the season, defined as a 10th of an inch or greater bringing in an end to the record snow drought the city had been experiencing. Since 1882, the city had never made it into December without measurable snow. The previous record for latest measurable snow was November 21, 1934.
The city also went 232 consecutive days without measurable snow, the second-longest streak in recorded history. The record is 235 days: from March 5 to October 25, 1887. The snow is expected to be light in Denver, with the forecast calling for around 1 inch of accumulation today, with higher tallies in the mountains to the West. Elsewhere, many motorists will be forced to test their winter driving skills for the first time this season as conditions quickly deteriorate under a band of heavy snow from Cheyenne, Wyoming, to Marquette, Michigan.
"Given this is the first widespread and significant snowfall of the season, residents in these areas are urged to plan ahead and take proper precautions if venturing out into the storm," explained the prediction center. Snowfall rates of 1 to 2 inches per hour are possible tonight into Saturday morning across a large stretch of the Upper Midwest and Great Lakes region. A widespread area of 6 inches of snow is anticipated, with up to a foot possible where the center of the low-pressure system pivots and dumps the heaviest snowfall. This area includes southern Minnesota, northern Wisconsin and portions of Michigan's Upper Peninsula. Heavy snow will be accompanied by strong gusty winds that will make travel conditions extremely difficult. Blowing snow from winds gusting over 50 mph will reduce visibility and create slick roads from the Central Plains to the Upper Great Lakes. Potential travel impacts could be greatest across the heavily traversed Interstate 90 corridor.
Whether it's Nocturnal tornadoes or extreme snow, stay prepared with us at weatherTAP.com! Sign-up today for a free trial and watch the storms in real-time with no credit card information required at sign-up. Because of the severity and range of the storms, we are now offering the promo code SVRWX1221 for 10% off of annual subscription. With an annual subscription, you'll be prepared all year long.
Want to skip the lines and give a subscription to weatherTAP? Purchase a gift code here to keep someone safe in your life.
*Gift codes cannot be purchased with any promotions or offers.
*Promotion SVRWX1221 is only available until 12/17/2021 and is not available with any other offers or promotions.
*Promotion SVRWX1221 is not available for renewal at the end of the term.